Top 10 must try Andalusian specialties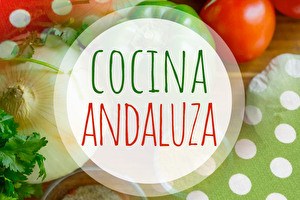 Andalusia is home to good food. No trip to Andalusia is complete without tasting traditional delicacies. Of course everybody knows tortilla, gazpacho and sangria but there is so much more to try. Here are Cortijo La Zapatera favourites.
Breakfast
Pitufo Catalana
Your breakfast (around 11 am) in the Malaga area should start with a pitufo Catalana. A small sandwich (pitufo literally means 'smurf') with Spanish ham (jamón serano), good quality olive oil and grated tomatoes. If you like a vegetarian version better you can go for a pitufo con tomate y aceite, a sandwich with grated tomatoes and olive oil only. Simply the best!
Tapas
Croquetas
No list of the most typical foods in Andalusia would be complete without croquetas. Crispy on the outside and creamy on the inside. The croquettes are filled with ham (jamón), chicken (pollo) or bull tail (rabo de toro). Croquetas de rabo de toro are our favourite and can not be found everywhere but we let you in on a little secret where you can eat the best, shhh… The best can be found here, in Canillas de Aceituno in Restaurante El Bodegón de Juan Maria.
Ensalada rusa
This cold potato tuna salad can be found in every bar and restaurant and is a favourite tapa to accompany your beer or wine.
Berenjenas con miel de caña
Originally brought over by the Spanish Jews, these aubergines are deep-fried in batter and then drizzled with molasses (miel de caña).
Gambas al pil pil
Of course fresh seafood is plentiful here in Andalusia. The spicy taste of juicy prawns sizzled in garlicky chili oil is a hot favourite. Serve with a hunk of good bread to mop up the sauce.
Timbal or Tartar de aquacates con langostines y mango
A delicious avocado, mango and shrimp timbal or tartare, the perfect combination. All ingredients from our Axarquía region.
Chipirones fritos
There is no one who can resist a good portion of chiperones fritos. Traditionally served in all the chiringuitos (beach bars/restaurants) at the Andalusian coast. These mini squids are fried whole with a grainy and crispy coating that keeps the squid juicy.
Main course
Secreto de cerdo Iberico
The Iberian secreto is an irregular cut of meat with a characteristic white veining of infiltrated fat that provides a delicious texture and juiciness. It is one of the parts of the pig most valued.
Chivo de lechal
A Canillas de Aceituno specialty. The Malagueño Suckling Goat is raised in the province of Malaga, it is genuine and soft, juicy and tender. Roasted on olive wood with garlic the Axarquía way. Must be ordered in advance.
There are two good restaurants in Canillas de Aceituno where you can order this: Restaurante El Bodegón de Juan Maria and Restaurante La Sociedad.
Naturally you need some refreshing summer drinks to go with your food.
Drinks 
Tinto de verano
Most Spaniards drink tinto de verano rather than sangria. This mix of 50% red wine and 50% soft drink is a real 'red summer wine'. There are two variaties: with bitter lemon (con limón) and with casera (sparkling lemon water).
Clara
If you're looking for a low-alcohol beer on a hot day, reach for a clara. A clara is nothing else then a radler beer, a similar citrus and beer mix.
Buen provecho y salud!
August, 28th 2021