What you need to know about Canillas de Aceituno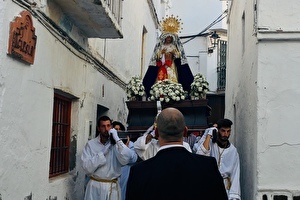 Cortijo La Zapatera is located near the white village of Canillas de Aceituno. A small mountain village with a lot of history, lovely views, great hiking possibilities, gastronomic specialties and friendly people. Canillas de Aceituno has some interesting facts we would like to share with you.
Where the name came from
The name of Canillas de Aceituno is composed of two words: the word 'Canillas' dates back to the Roman-Visigoth period, which means 'zone rich with reed, scattered throughout a wide mountain territory rich in springs'. The other word 'Aceituno' comes from the Arabic word 'azzeytum', which means 'silk'. This dates back to when the Moors settled in this area and produced and sold silk. 'Aceituno' has no relation with the word 'aceituna', which means 'olive'. The inhabitants of Canillas de Aceituno are called 'canilleros'.
Famous flamenco singer
Antonio Jiménez, better known as Antonio de Canillas was born in Canillas de Aceituno in 1929. At the age of 7 he started singing the flamenco. He was well know for his 'saetas'. These are traditional songs that are sung during the Semana Santa, the holy week. He passed away in 2018 at the age of 89. A statue of Antonio can be seen in front of the town hall.
Own yearly fiesta, Dia de la Morcilla
The 'Day of the black pudding' is celebrated every year in tribute to one of the most appreciated products in the town. During this day more than 5.000 portions of black pudding are served to all the visitors accompanied by wine, music and dance. The celebration usually takes place on the last Sunday of April, coinciding with the festivities in honour of the Virgin de la Cabeza.
Lamb goat meat is the gastronomic speciality
Canillas de Aceituno is well known for its speciality, 'Chivo de lechal'. This is lamb from the goat; the lamb has only been fed with mother milk. The flesh has a pale pink colour and is very tender and juicy, along with a soft and characteristic flavour. If you want to enjoy this speciality in one of the restaurants in Canillas de Aceituno you have to order this in advance.
Situated in a beautiful mountain setting
Canillas de Aceituno, 524 meters above sea level, is nestled against the natural parc 'Sierra de Tejeda-Almijara y Alhama'. This parc has the highest mountain in the Axarquia region, called 'La Maroma' (2.065 meter). You can hike La Maroma but it is not for the faint-hearted.
Mudéjar style architecture and monuments
The Mudéjar influences are well visible in Canillas de Aceituno. Mudéjar art, a style that is native and unique to the history of Spain, was a meeting point between Christianity and Islam. The term Mudéjar refers to the Muslims who continued to practise their religion and their customs in the territories that became part of Christian dominions as the Reconquista advanced into southern Spain.
Perfect starting point to discover the Axarquía region
When you are staying at Cortijo La Zapatera you are in the centre of the Axarquía region. There is much to discover and explore in this authentic region, such as: mountains and hills, lake Viñuela, white villages, the beach, the sea, the city of Málaga and the Andalusian cuisine. There is something for everybody.
If you would like to know more about Canillas de Aceituno, Cortijo La Zapatera is more than happy to help you with your journey of discovery. We are convinced that you will love this charming little village. And after a day well spent what is better than to unwind in a relaxing environment of Cortijo La Zapatera. You can stay in one of our lovely B&B rooms or in one of our apartments.
August, 10th 2019