Tomato mango soup with avocado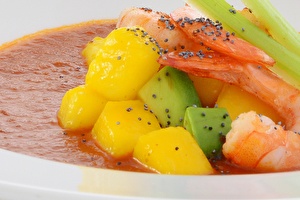 At B&B Cortijo la Zapatera we often prepare a three course dinner. As our guests know we try to use as much local products as possible. Because we are located between hills full of mangos and avocados we wanted to cook a dish with these beautiful products.
Whilst searching for a special recipe we found this delicious tomato mango soup on the Trops website, a local agricultural company producing mangos and avocados. And it's a winning dish! Our guests are always surprised by the combination of these ingredients.So we translated the recipe for you to enjoy as well. It is a very easy and healthy soup to make and it will definitely tickle your taste buds!
Ingredients for 4 persons:
2 ripe mangos
1/2 kg. tomatoes
1 onion
1 litre vegetable stock
Olive oil
Salt to taste
Pepper to taste
A pinch of Poppy seeds
Mix of spices (1 tea spoon each: ginger, cinnamon, anise and cumin)
1 teaspoon soy sauce
1 tablespoon oyster sauce
For garnish:
1 avocado
1 mango
200 gram prawns (if you like)
Preparation soup:
Place a pot of water on the stove and bring it to a boil. Then drop the tomatoes into the boiling water. You can add several at a time. Remove them after 30 seconds or when the skin begins to peel;
Peel the tomatoes and the mangos, clean the onion and cut everything into small cubes;
Pour a drizzle of olive oil into a saucepan, heat and poach the different ingredients, mangoes, tomatoes and onion slowly for approx. 5 minutes;
Season with salt and pepper and add the vegetable broth
Let simmer for twenty minutes and add the soy and oyster sauce;
Season with the spice mixture;
Mix the soup in a blender;
Poor in a jug just before serving.
Preparation garnish:
Cut the mango and avocado into cubes;
Peel the cooked prawns;
Add olive oil into a pan and sauté these ingredients.
Place the garnish into a soup plate and poor the soup over the garnish (can be done at the table).
Buen provecho!
September, 21st 2019