Do as the Spaniards do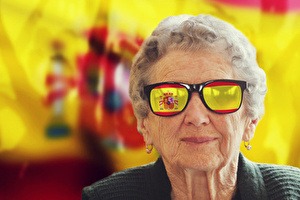 Viva la vida, live life, is what Spaniards do best. Take it easy, slow down and don't worry too much. Easier said than done, but we can give it a try. So, how does the Spaniard live life? We have some tips for you.
Enjoy siesta time
A midday break doesn't necessarily mean that you have to take a nap, rather than to have some time for yourself and avoid the mid-day heat. In this region most of the shops are closed between 2:00 p.m. and 5:00 p.m. so you will have plenty of time to relax, have a late lunch, chat or take an afternoon nap.
Join a fiesta
Spaniards love to party! There is always a reason to celebrate. And you can't blame them for doing so. There is always something interesting going on. Enjoytypical festivities, traditions and fairs. We, at Cortijo La Zapatera (CLZ), know exactly where all the fiestas are, so find out and join them in celebration.
Go to a street market
Shopping at a traditional Spanish market is a true cultural experience. One of the best ways to discover a place is to wander around its local or flea market browsing the wares for sale, chatting to the stall holders and, hopefully, finding some hidden gems to take home as unique souvenirs of your travels. At CLZ we know when and where to go.
Chat
Spanish people are very sociable and more open to chat than most other European cultures. And when you ask for help, they will try to help you as much as they can. In this region people don't speak English very well so it is a good way to practise your Spanish. 'Hola, qué tal?'
Friendly kisses
A friendly kiss ('un beso') at the cheek, always two, is a common way of greeting someone in Spain. Don't be surprised even when you meet someone new or when you are leaving. So you will be sharing plenty of kisses!
Have a typical Spanish breakfast
When you're in Spain, you're bound to have churros for breakfast at least once. I mean, why wouldn't you? They are dough pastries that have been deep-fried and dipped in a cup of hot chocolate. Most Spanish people will order their 'churros 'con chocolate' (with chocolate) or 'con café' (with coffee). Or have a 'tostada con aceite y tomate', toast with olive oil and grated tomatoes. Be surprised how good this tastes!
Have a late lunch and dinner
Spanish lunch and dinner times are later than in many other countries. Lunch is normally eaten at two or three in the afternoon, and dinner around ten at night. Spanish people are very sociable and that's why their meals can be extended while they enjoy spending time with others as much as possible. So go where the Spaniards go and enjoy your meal and the Spanish culture
Eat an 'espeto'
Visit a 'chiringuito', a traditional beach restaurant, and eat 'espetos de sardinas', sardine skewers. If you like sardines you have to taste this ancestral culinary specialty linked to Malaga and the rest of Andalusia. It is common to prepare the sardines in a small boat filled with sand where the fish is grilled on olive wood. It is eaten with your hands and a touch of lemon is enough to condiment this feast that fills your palate with flavour. The taste and smell will become memories for you to take home.
Share food
'Para compartir' means 'to share' and this is a common thing to do when you start lunch or dinner. We love the 'croquetas de rabo de toro' (bull tail croquettes), 'albóndigas' (meatballs), 'berenjenas fritas' (fried eggplants) and of course 'espetos'. Remember not to order too much because the portions are usually quite large. 'Buen provecho', enjoy the tasty Spanish kitchen!
Vamos a la playa!
When going to the beach you have to take a lot with you, at least when you want to do what Spaniards do… This is what to bring: a beach chair or lounger, beach umbrella (preferably two), beach towels, cooler box with drinks and bottled water, small table and an inflatable unicorn, flamingo or dolphin. Food is not necessary because you go for that extended lunch at a chiringuito or restaurant. At CLZ we have all the necessities you need for a day at the beach.
July, 7th 2019