Paella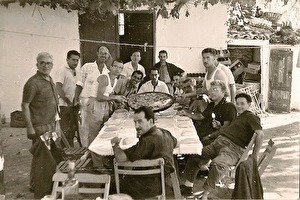 Paella is one of the most famous dishes of Spain. And of course paella is on our menu. Just like our tomato mango soup our paella is one of our favorite dishes of our guests.
Originally paella is a Valencian dish made with chicken and rabbit. In the early days people used ingredients which were available at that moment such as: chicken, rabbit, tomatoes, snails, dried beans, artichokes and peas. Typical for this dish is the rice variety (bomba rice), the use of saffron and the flat paella pan.
Traditionally the preparation of paella was a social event on a Sunday afternoon, mostly prepared by men.
What do yo need?
1-2 tbsp olive oil
2 chicken thighs, fat removed, in pieces
150 g dried chorizo, diced
1 onion, diced
1 red pepper, minced
2 cloves of garlic, minced
1 envelop of saffron threads, soaked in 2 tbsp hot water
300 g bomba rice (short thick grain with high absorbency)
125 m dry sherry wine
500 m chicken stock
1 package of paella seasoning
For garnish
lemon wedges
200 g Prawns en mussels (as wished)
Fresh parsley, finely chopped
How to prepar
Heat 1 tablespoon of oil in a paella or large tall skillet over medium to high heat.
Add the chicken cubes and fry them for about 3-4 minutes until golden brown and almost cooked
Remove them from the pan and set aside
Put the chorizo ​​in the pan and add a dash of oil if necessary. Bake the chorizo ​​for 2-3 minutes until it becomes crispy
Add onion, pepper and garlic. Bake for 5 minutes until they are soft
Return the chicken to the pan, add the saffron mixture and the rice and stir to combine
Pour the sherry and stock, in parts!, over the rice mixture and simmer the paella on medium to low heat for 25 minutes. Keep adding parts of the stock and stirring occasionally until the rice is almost cooked and the liquid has mostly boiled down
Divide the shrimp and the mussels on the rice and sprinkle with the peas
Put a lid on the pan or cover with aluminum foil and leave on the stove for another 10 minutes until the shrimp and mussels are cooked/warm and the peas warm
10.Season with salt and pepper
11.Place the lemon wedges on top before serving
Serve the paella with some bread and aioli.
The pan is allowed on the table because you eat this dish directly from the pan.
Buen provecho!
February, 25th 2020