Why choose a boutique Bed and Breakfast?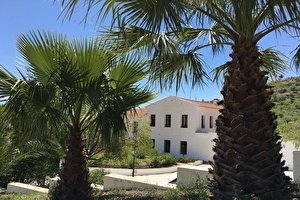 While there is no strict definition of a boutique B&B, the genre does tend to have some common features. Cortijo La Zapatera is a boutique B&B and we like to share our intepretation of the characteristics of a boutique B&B to get you inspired!
In general a boutique B&B can be described as:
'Boutique B&B's are characterized by their intimate atmosphere and personal style. They distinguish themselves from chain hotels by offering personalized attention and styled accommodations.'
Small size 
Boutique B&B's are typically small. Cortijo La Zapatera is intimate in scale and we create an ambiance of being a personal guest on our estate, rather than just a hotel occupant. We have communal lounges, terraces and patios for  guests to enjoy en maybe make some new friends.
Design
Properties have a distinctive vibe and a personal interior. Each space and room at Cortijo La Zapatera is furnished and decorated with the Andalusian style and guests comfort in mind. Our guest rooms and apartments are uniquely and attractively decorated, and use upscale linens and amenities.
Personal character
Boutique B&B's usually have their own personality. Cortijo La Zapatera is a one of a kind, a unique location and different both in terms of service and in terms of interior design.
Off the beaten track
Many boutique B&B's are found in resort areas, generally well hidden from the main tourist crowds. Cortijo La Zapatera is a hidden gem set in a secluded, very peaceful and private country hillside in the Axarquía region. The perfect base for our guests to discover beautiful Andalusia.
Local culture
As an extension of their unique personality of each property, boutique B&B's often celebrate the local culture. At Cortijo La Zapatera we incorporated locally-sourced products and reflects the locations heritage through furniture and design.
Personal service
Personalized service is a hallmark of boutique B&B's. The personal and intuitive service of Cortijo La Zapatera is what makes our guests feel welcome and at home. Our guests enjoy a carefree stay and an individualized experience and we always respect your privacy.
Gastronomy
Like everything else about boutique B&B's, their kitchen tend to be and locally inspired with local products. Besides the above Cortijo la Zapatera has an eye for detail for the presentation. High quality, authentic cuisine, and a comfortable cocktail atmosphere makes our location a great dining and drinking spot.
Clientele
The types of travelers who are attracted to boutique B&B's are always looking for something else. Our guests are always looking for that hidden gem off the beaten track. They enjoy our personal attentive service, local products, creative design and charming character.
Curious about staying at Cortijo La Zapatera? 
Please check our website. If you would like to receive more information do not hesitate to contact us via email or phone
Cortijo La Zapatera
~ Unhurried, Unspoiled, Unforgettable ~
July, 19th 2020