10 reasons why you should stay at Cortijo La Zapatera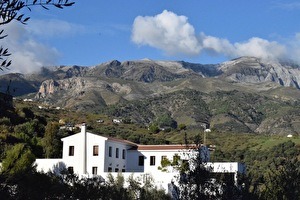 Staying at Cortijo La Zapatera (CLZ) is about making memories. Memories for you to take home and which will last a lifetime.
CLZ offers so much more than just a place to sleep and grab a quick bite in the morning. These are the 10 reasons why you wouldn't regret your stay at CLZ.
1. A unique location off the beaten path
Where everybody goes right, you can go left. Escape the ordinary and find your way to a private and secluded hideaway. CLZ is located amidst unspoilt countryside. Located in a less travelled area giving you the opportunity to discover parts of the Andalusian country that you might not experience otherwise.
2. The perfect starting point
When you really want to discover an authentic part of Andalusia, this is the place to be. You can enjoy the historical cities of Málaga, Seville, Córdoba and Granada but also explore the many lovely small white villages in the region. Enjoy beaches and bays or go skiing in the Sierra Nevada during wintertime. There is so much to see and do.
3. The estate
CLZ is set on a beautiful 7-hectare rolling estate filled with hundreds of olive and almond trees. CLZ also has two vineyards with 550 vines and a fruit garden.
4. The views
Nestled between hilltops and the highest mountain in the region it gives you the most stunning views. The views are just breath taking. It doesn't matter where you are, the views are everywhere.
5. Nature
Enjoy the tropical flowers and waving trees, watch eagles and swallows fly by and listen to birds singing. Hike or mountain bike the unpaved tracks straight from the estate to explore the beautiful surroundings. And in the evening, when you hear bells tingling you know the neighbour is walking his pack of goats. The beauty of nature!
6. The cortijo itself
This typical Spanish country house is very spacious. The Andalusian interior is a lovely mix of Spanish and Moorish styles with a modern twist and a hint of Dutch influences. A spacious living and dining room is designed to make you feel at home instantly. The gardens have various courtyards, terraces with seating's and water features.
7. Uniquely styled rooms and apartments
Cortijo La Zapatera has been designed to be an oasis of luxury and tranquillity, with every amenity required for a relaxing stay.
The rooms and apartments feature all of the standard in-room amenities to create a welcoming, Andalusian retreat.
8. The owners
If there is something that defines CLZ then it is the value of experiences and hospitality their guests take home. The key to CLZ hospitality is an open, intuitive service to ensure that guests have the best memories to take home. The owners will definitely go the extra mile.
9. CLZ knows her way around
Staying at CLZ is a great way to really get to know the destination. The owners have taken the time to know their area and all that there is going on as well as those special local events, restaurants and experiences for you to check out during your stay. You don't have to miss anything!
10. Everyone wants to come back someday
This is not something CLZ thinks, but it is a fact that everyone had a great accommodation and experience here. What are you waiting for to join them?
When you stay at CLZ, you're not just staying anywhere you're staying somewhere!
30 juni 2019