Walks & hikes in the Axarquía region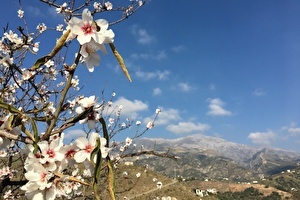 Who doesn't love spending time outdoors and to follow trails or footpaths in the countryside?
The Axarquia Region is a wonderful area to discover and explore Andalusia. The region has dramatic hills and mountains with wonderful sceneries, beautiful nature and unspoiled white villages which are a pleasure to visit. The varied landscape offers opportunities for easy walks and more difficult hikes, for beginners and for experienced hikers.
From B&B Cortijo La Zapatera there are many possibilities. We have set out various walks that start at our estate. These walks will guide you through rolling countrysides, through olive and almonds groves and presents beautiful views. These circulair walks vary from half an hour to half a day.
In our village, Canillas de Aceituno, we have an alternative for the famous Caminito del Rey, El Saltillo. The trail follows the water pipelines along steep hills with breathtaking views of the surrounding countryside and mountains. The walk continues via a suspension bridge along the side of the vertical mountain wall and ends at a small waterfall. This newly build suspension bridge (54 meters long) opened in October 2020. 
When you like a challenge you can hike to the top of the highest mountain of the Axarquia region, La Maroma (2.065 meters). This mountain lies in the natural parc Sierras de Tejeda, Almijara y Alhama. From the coast, the Sierras de Tejeda mountains break up the horizon with a spectacular succession of peaks reaching more than 1,500 meters, with a vertical drop that disappears beneath the waters of the Mediterranean.
At the beach in Torre del Mar you can enjoy a gentle stroll along the coast of Vélez-Malaga on a special path admiring the beautiful coast and the dramatic background of the Sierra de Tejeda mountains. This path is part of the Málaga Coastal Path (Senda Litoral de Málaga), is no longer than 3.5 kilometers and virtually flat. On a clear day you will be able to see Morocco.
A path to highlight the old flour mills (Ruta de los Molinos) can be found between Canillas De Albaida and Árchez, two small white villages nearby our B&B. This is a circular route of almost three kilometers long, which runs along a ditch and next to the Turvilla river.
When you want to experience some kind of magic scenery you must go to natural parc El Torcal de Antequera. This natural site had an exceptional karst landscape. It is like walking on another planet, the stones have all kinds of incredible shapes and forms.
Hiking and history is combined during a walk to El Acebuchal, also known as 'the lost village' near Frigiliana. El Acebuchal was completely abandoned in 1949 and had fallen into disrepair over the years. But that has been restored to its glory at the beginning of this century and is now a charming hamlet. You can start or end your hike with a lovely lunch in the restaurant of the García Sanchez family.
This is just a selection of walks you can do while staying at B&B Cortijo La Zapatera. Almost all year round, from mid September through to mid June the climate is ideal to go for a walk or a hike. The Axarquia region is blessed with blue skies, abundant days of sunshine, also during 'winter' time.
We hope we have inspired you to follow some trails. So don't forget to bring your walking shoes!
September, 15th 2020