Cortijo La Zapatera 360 degrees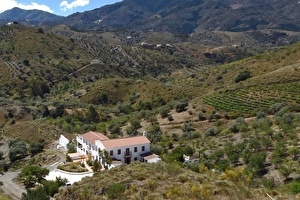 There are 360 degrees, so why stick to one? We at Cortijo La Zapatera are more then happy to present you what can be discovered in each wind direction. Because when you really want to discover an authentic part of Andalusia, Cortijo La Zapatera is the place to be.
North
In the north our white village, Canillas de Aceituno can be found. Located on an altitude of 649 meters. Canillas de Aceituno is a little village in which time has stood still. Stroll through the narrow streets and enjoy a cold drink at one of the terraces or eat in one of the good restaurants.
Northeast
In the northeast you can see the highest mountain of the Axarquía region, La Maroma. With a height of 2.065 meter she shows her beauty. From our estate you have the most beautiful view on this majestic mountain that leave all our guests in awe. During wintertime you have a chance to see her peak covered in snow.
East
Tucked away behind rolling hills in the east lie two small white villages, Sedella and Salares. These charming little villages can be reached cruising through a lovely valley. They are, just as Canillas de Aceituno, both part of the Mudejar-route. Their small, winding streets form a labyrinth in which it is pleasant to wander around.
Southeast
In the southeast you can find Frigiliana. This mountain village is has charming narrow whitewashed streets with old Andalusian houses. If you decide to keep exploring, you will find hidden corners, small corridors, slopes taken from past centuries and surprises among the streets that seem impossible to walk through.
South
Behind the hills in the south you can also find Vélez-Málaga. A typical Andalusian city and the capital of the Axarquía region. Its historical city centre is charming and authentic. It is a beautiful city with much history, typical Spanish bars and nice squares, churches and preserved Arabic heritage.
Next to Vélez-Málaga is Torre del Mar. Torre del mar is an authentic Spanish town with a cosy centre with many small shops, restaurants and terraces. There is a beautiful set promenade at the Mediterranean Sea on which you can stroll aside the beach. On a clear day it is possible to see Morocco.
Southwest
Picturesquely situated in a bay surrounded by mountains and bounded by rivers, Malaga with its two thousand-eight hundred years of history is one of the oldest cities in Europe. Malaga is rich in culture, historical monuments, shops, beaches and many festivals. It has a delightful pedestrianized centre, atmospheric little streets and squares with delightful café culture.
West
You enter Cortijo La Zapatera in the west. Our B&B is set on a beautiful 7-hectare rolling estate filled with hundreds of olive and almond trees. We also have two vineyards with 550 vines.
Northwest
In the northwest behind the goat farm of our neighbour Manuel, in a most beautiful scenery lies Lake Viñuela. This lake is a man-made reservoir, created in 1905, and serves the useful purpose of providing thousands of homes with water was. With 1396 acres and 295 feet of depth, this marsh is the largest of the Costa del Sol. The environment is a great beauty that charms visitors and offers a large number of places and activities to enjoy.
Have we made you curious? Find out which direction you prefer. At Cortijo La Zapatera we can tell you the best routes to take so you won't miss out on all the hidden places.
August, 31st 2019