Top 12 activities while staying at Cortijo La Zapatera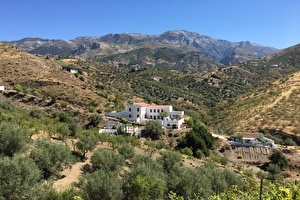 If you want to alternate relaxing and visiting villages with an activity, there are plenty of options to choose from while staying at Cortijo La Zapatera. You can go mountain biking, sailing, kayaking, scuba diving and more! We are happy to give you a list with activities you can do.
Mountain biking
The surroundings of Cortijo La Zapatera is a paradise for bikers. Riding along steep and narrow roads through beautiful mountain scenery is possible directly from our estate. Would you rather go a little more relaxed and ride an e-bike along the beach? It's all possible. Your (e-)bike can even be delivered directly at our cortijo.
Yoga
Ever thought about doing yoga? Yoga is designed to help achieve a more positive outlook on life and a focused, permanent sense of serenity and peace. Exactly what you need during a relaxing vacation at Cortijo La Zapatera. You can do your 'asana's' indoor but also on our sun terrace or at our poolside. Our yoga teacher will show you how to relax your body and mind.
Hiking
Do you love walking off the beaten track, discovering new areas by foot and walk among the olive and almond trees? Cortijo La Zapatera is a good starting point for a perfect day hike. You will find beautiful hiking roads that will take you up and down the most breathtaking landscapes and views. Definitely a must-do! Don't forget to bring your hiking shoes. We can provide the walking pools and maps.
Stand up paddling
In the heart of our Axarquía region, lies Lake Viñuela. A man-made reservoir, serves the useful purpose of providing thousands of homes with water. This lake is set in a stunning landscape. A good place to do some water activities. Have you ever tried stand up paddling? Standing on a board you use a paddle to propel yourselves through the water. A local water-sports team can show you how.
Scuba diving
Do you want to go scuba diving or learn how to scuba dive? In the coastal towns there a several professional diving schools which know the best places to go. Here you will find the most beautiful dive sites of the Costa del Sol or Costa Tropical. Diving is an incredible experience. Being able to enjoy the serenity you find under the surface is absolutely fantastic.
Golf
Baviera Golf is an even course characterized by its wide greens with many movements and the great variety of obstacles which offer a big range of strokes and an ideal design for all types of handicap.The variety of holes and the views both to the Mediterranean sea and to the mountains contribute to make you enjoy and share an unforgettable day at Baviera Golf. 
Cave exploring
If you want to go underground, there are two caves to explore in the vicinity of Cortijo La Zapatera. Rincon de la Victoria owns a unique place in Europe, Cave of Treasure. This cave is the only marine cave that can be visited in Europe. The magnificent Nerja Caves are a series of huge caverns stretching for almost five kilometers. Both caves have comfortable walks through its cavities, you can enjoy the curious forms that water has shaped over millennia.
Sailing
If you want to live a unique aquatic experience on the Costa del Sol, why don't go sailing? Rent a yacht for a nice short trip just around the bay of Caleta de Vélez. You can also choose from half-day, full-day. Maybe you will see some dolphins!
Ski
As one of Europe's highest ski resorts, snow is guaranteed in the Sierra Nevada and typically has a long season, which usually starts around the end of November and runs through the end of April. It has practically guaranteed sunshine, is nestled in an impressive mountain range with beautiful mountain and sea views. With 110 kilometers of trails contained in 131 ski runs, Sierra Nevada provides one of the largest and most attractive skiing domains.
Kayaking
When you love nature and sea and want to see the shore line close by, you can go to La Herradura and rent a kayak. Paddle across the crystal clear water in a single or double kayak, while enjoying beautiful scenery. The rental companies are located at the beach, so starting your route will be easy and comfortable.
Zipline
Comares, one of the highest white villages in Andalucía at 739 meters above sea level, is home to Spain's longest zipline. At 436 meters long, the zipline takes you flying across the mountaintops within minutes, with spectacular views. Don't you want to know how it feels to whiz through the air?
Private tour
Why don't enjoy a private tour at Cortijo La Zapatera? Our tours can take you to Málaga, Granada, Sierra Nevada, white villages and some other destinations. You will be relieved of the stress of driving, finding your way and parking.  You can relax and really appreciate Andalusia while being driven and guided by an expert.
At Cortijo La Zapatera we thrive to make your stay as memorable as possible. Just tell us your preferences and interests and we will create a personalized itinerary and set of options to help you make the most of your holiday with us.
January, 6th 2020